The most famous wedding rings in history
---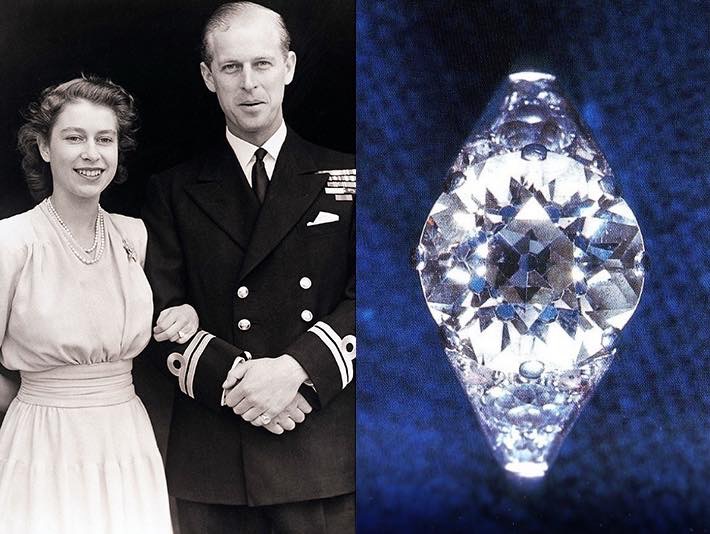 10 June 2019
Queen Elizabeth II

As you know, the Duke of Edinburgh himself came up with the design of the ring, and borrowed diamonds from his mother (the Princess of Greece and Denmark). The queen wears the central stone of 3 carats without taking off.

Grace Kelly

Initially, Prince of Monaco Rainier III purchased a Cartier ring made of rubies and diamonds for engagement, but then, having doubts about his impressiveness, he bought another ring with a central stone of 10.5 carats and surrounded by 2 baguettes. Today, this ring is valued at $ 4.3 million.

Elizabeth Taylor

Technically, it was not her engagement ring. She was presented to her by her husband, 5 and 6, Richard Burton (they signed 2 times) on Valentine's Day. He bought this ring at an auction for $ 300 thousand. Prior to this, the ring belonged to the wife of a famous German industrialist who actively sponsored the Nazis. A very romantic present 👀 But, despite its impressive size and history, she wore Elizabeth practically without removing it. After death, the diamond went under the hammer for $ 8.8 million.
Jacqueline Onassis

John F. Kennedy presented his lover with a precious Van Cleef & Arpels jewel with two large baguette-cut stones - a 2.84-carat emerald and a 2.88-carat diamond framed with diamond petals. A little later, Jacqueline decided to change the baguette-cut diamonds to round and oval. At the moment, the ring is estimated at $ 1.4 million.
Marilyn Monroe

Against the background of other celebrity engagement rings demonstrating impressive sizes of diamonds and gems, this ring stands out for its special design and lack of pretentiousness. 35 baguette-cut diamonds were inlaid in a platinum hoop, forming a concise sparkling bezel. For the entire existence of the ring, it was sold twice at auctions. The last time he was put up for $ 300,000.

Kate Middleton

For the long-awaited engagement, the future Duchess of Cambridge received Princess Diana's engagement ring. The ring of the mother was inherited by Prince Harry, but on the eve of the engagement of his elder brother, he considered it right to transfer the family jewel to him.

Kim Kardashian

As you know, Kanye West made Kim Kardashian a marriage proposal during a baseball game in San Francisco. The ring design was invented by Kanye himself together with the jeweler Lorraine Schwartz. A 15-carat stone worth more than $ 1.5 million replaced the previous 20-carat stone from basketball player Chris Humphries.
---
---